October 25th 2021
UK legal directories recognise Temple Heelis' outstanding teams
Five of Temple Heelis' lawyers have been recognised as leaders in their fields by the UK's most prominent legal directories.
Now in its 202nd year, Temple Heelis is one of Cumbria's longest established and most iconic law firms with connections dating back to Beatrix Potter, whose husband was a partner in the firm.
The Legal 500: The Clients' Guide to the Legal Profession describes Temple Heelis as "the pre-eminent tax and estate planning firm in the Lake District" and a key player in the rural and agricultural sector.  The Legal 500 comments on the firm's "successful and well-regarded team offering specialist and trusted work" and people "always available to speak to and open to resolving complex issues".  The firm is also praised for its "breadth of knowledge spanning multiple disciplines".   Legal 500 has been in existence for over 30 years and assesses the legal profession in over 150 jurisdictions world-wide.
In the High Net Worth Guide (which focuses on private client services and is published by Chambers and Partners), the highest 'Band 1' ranking is awarded to Jamie Hamilton and Robert Kornas, with Laura Priestley ranked as an 'Up and Coming' partner.  The firm is described as "a major presence in the Cumbrian legal market", with "bang up to date expertise", "a very efficient and reliable service", "high quality advice" and "modern offices and systems".
Issued on 21st October 2021, the Chambers and Partners UK Law Firm Guide endorses Temple Heelis as a 'well-established firm' in South Lakeland and praises team members for excellent client service, thoroughness, efficiency, keeping clients informed yet also providing 'good value for money.'  Chambers and Partners asserts that it is the world's leading legal research organisation; its UK legal directory is produced by a team of 70 researchers and based on over 20,000 client interviews.
The five Temple Heelis lawyers singled out by the directories are: Jamie Hamilton, Robert Kornas and Laura Priestley (private client partners), Peter Dodd (head of residential property and lead partner for the firm's rural and agricultural specialism), and Yasmin Blamire (commercial property lawyer, also specialising in rural and agricultural matters).
Managing partner, Jamie Hamilton, said the firm is delighted with the exceptional results and client feedback again this year. "It is very encouraging to see that, in addition to the four lawyers singled out last year, the directories have also recognised Laura Priestley and described her in such glowing terms.  Furthermore, Yasmin Blamire is ranked as an 'Associate to Watch' which is well deserved."
He continued: "This is the second year in which we have prepared submissions to the directories and participated in the interview process.  It is rigorous and demanding, spanning about 8 months.  A cross-section of our clients are interviewed by independent researchers who also gather feedback from other lawyers and professionals. All aspects of our work are scrutinised, including our quality, levels of service, legal knowledge, outcomes achieved for clients, use of technology and complexity of work."
Mr Hamilton added "In another year in which the pandemic has influenced our lives and businesses, we have continued to invest in Temple Heelis to ensure the firm is not just addressing current issues (such as remote working and sophisticated telephony usage) but also anticipating future needs.  We have created 5 new roles, invested further in IT, and developed a sophisticated new Estate Planning Review Service which Robert Kornas, head of our 7-strong Private Client team, will be launching shortly."
"We are already in the process of preparing our next submissions to the legal directories and are offering further practice areas for review next year!"
Pictured above (L-R): Laura Priestley and Robert Kornas.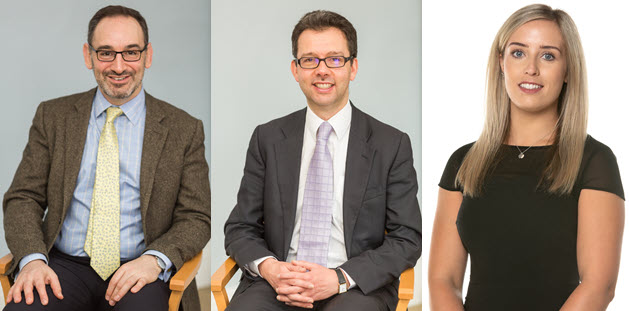 (L-R): Peter Dodd, Jamie Hamilton and Yasmin Blamire.